All about using Uber in Portugal
Want to find out how Uber works in Portugal? We also compare it to other on demand services to see which is cheaper and better.
But first, a little background information.
Is Uber legal in Portugal?
Uber is legal in Portugal although that wasn't the case until recently as it was thought that Uber operated in the grey areas of the digital and transport regulation laws. With the new 'Uber Law' in Portugal, they are now able to operate legally in Portugal.
Where is Uber available in Portugal?
Uber is available in these cities across Portugal:
Lisbon;
Porto;
the Algarve; and
Coimbra.
It is widely available in most parts of Lisbon, Porto and Coimbra however availability of Uber in the Algarve is more common in the following areas: Faro, Albufeira, Armação de Pêra, Quarteira, Vilamoura and Lagos.
In more remote parts of the Algarve islands, the availability of Uber drivers is very little or next to none, so you are better off using regular taxis.
Is Uber in Portugal cheaper than taxis?
Yes, it is slightly cheaper than regular taxis in Lisbon though they are not as expensive as other major European cities anyway. The difference in price may not be great, but I think the customer service and efficiency that Uber provides makes it a better option.
This is even better now with the new 'exact fare' service which allows you to know how much a trip will cost beforehand. This service is not available on regular taxis so there is a risk that the drivers can take unnecessarily long routes to increase fares which makes the trip more expensive than it should be.
Is Uber in Portugal safe?
From my experience using Uber in Portugal, I consider it to be a safe mode of transportation because I have never had a negative experience. The drivers are very respectful and professional.
Also, Uber has recently taken more steps to ensure the safety of customers on their platforms with new features on the app such as the 'share my trip' feature that you can send to trusted contacts on your phone.
They also have phone number anonymity when you call the driver and there is an in-app emergency assistance button that shares your trip details to the authorities if something goes wrong.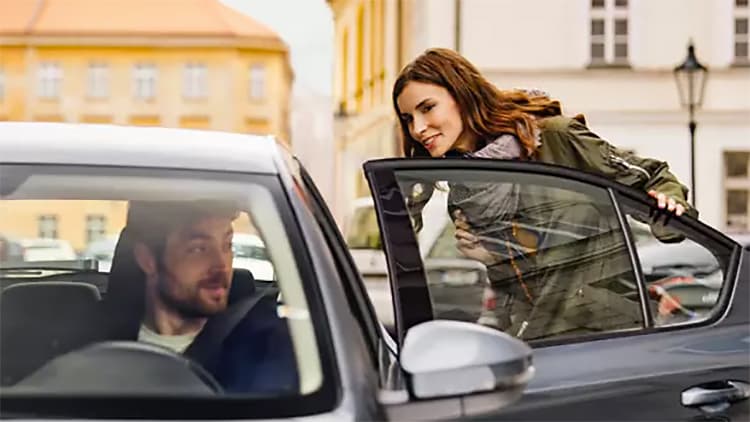 Do Uber drivers speak English in Portugal?
Most Uber drivers in Portugal are bilingual. It is common to find drivers who speak at least basic English, Spanish and sometimes French. In Lisbon and the Algarve, you will find many drivers speak English.
Want to learn a little Portuguese? You might like: Learning Essential Phrases in Portuguse for Your Visit to Portugal
What are the alternatives to Uber in Portugal?
There are a number of alternatives to Uber in Portugal which offer efficient and affordable services to make hailing a driver and paying as easy as possible. All are available for free on Android and iOS.
Some examples of other apps you can use in Portugal are:
Bolt (formerly known as Taxify)
Bolt launched in Portugal in January 2018 and has since become a popular ride-sharing app in Portugal. It is currently available in Lisbon, Porto and Braga.
Mytaxi
Mytaxi is a popular taxi hailing app which has a presence in many European cities. In Portugal, Mytaxi is available only in Lisbon, Porto and the Algarve at the moment. They are a bit different from Uber and Taxify in the sense that they only allow drivers who are Licensed Taxi Drivers in their respective cities to become a driver on their platform whereas other ride-hailing companies only require you to have more than three years driving experience.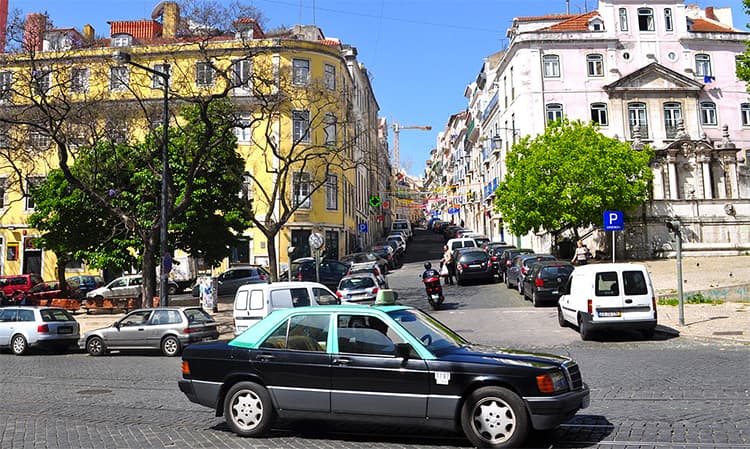 Kapten (formerly known as Chauffeur Privé)
Following its success in French cities like Paris, Lyon and Cannes, Kapten (website is in Portuguese but the app is in English) has now come to Portugal, but it's only available in Lisbon at the moment. It is very similar to Uber and Bolt, but one differentiating factor is its loyalty programme that gives you points, depending on the money spent on travel, which can then be used for free travel on the app.
Cabify
Cabify is another ride-sharing app with a large presence in Spain, Portugal and Latin America. In Portugal, Cabify operates in Lisbon, Porto, Madeira and most recently, in the Algarve. It is also a reliable and efficient alternative to Uber in Portugal.
Where are the Uber pickup points at the airports?
Uber Pickup point at Lisbon Airport
The Uber pick up and drop off point at Lisbon Airport is at the Departure area in Terminal 1. The Departures area is located on the first floor. After exiting the terminal, cross the street and wait at the 'kiss & fly' parking lot for the Uber driver you requested on your app. If you can't find your driver, contact him or her through the app.
Uber Pickup point at Porto Airport
At Porto Airport, there are two 'kiss & fly' areas, one for dropping off and the other for picking up passengers. The Uber driver will drop you off at the Departures area on the third floor if you're travelling out. For pickups, you should meet the driver at the Arrivals area on the ground floor.
Uber Pickup point at Faro Airport
Just like Lisbon and Porto airports, there is a 'kiss & fly' area designated for pick ups and drop offs at Faro Airport. This area is at the Departure area. It will be right in front of you once you come out of the airport in Faro, not too far from the Bus Terminal.
When should you book your ride?
You should know that Uber drivers are only allowed 10 minutes of free parking in these 'kiss & fly' areas, so it is advisable to request your trip when you are close to the pick-up points or better still, request it when you are at the designated pickup area
How to become an Uber driver in Portugal?
If you want to be your own boss or make some extra cash by being an Uber driver in Portugal, here's what you need to do:
If you don't have a car, you have the option of renting an Uber car through recommended Uber Rental Partners.
If you meet all the requirements above, then you can signup to become an Uber driver (website is in Portuguese).
For more information on being an Uber partner see the Uber website (in Portuguese).
How much can you earn as an Uber Driver in Portugal?
Generally, how much you would make being an Uber driver depends on the number of trips you do and also to some extent, on surge pricing.
Surge pricing is basically the rise in the cost of the ride to the customers depending on demand, for example, when it's raining or when there's an event on nearby and more people are trying to get a ride than normal. The price for the ride goes up and some people will be willing to pay more and some people will wait for a cheaper ride.
Uber's cut per trip is 25% of the total fee so you are left with 75% to pay for your expenses like fuel, car maintenance and insurance and hopefully make a little profit.
After factoring in all those deductions, you should be able to earn around €700 per month in the big cities like Lisbon and Porto. Again, it depends on if it's a full-time or part-time job for you.
Check out the Uber Drivers Portugal group on Facebook to get more information about being an Uber driver in Portugal.
Want Uber in Portugal?
If you don't have an Uber account yet, you can sign up here.
To get the app for iPhone users, go to your App Store, for Android users, check out your Google Play Store.
Uber is really easy and readily available in the most populated areas of Portugal so you shouldn't have any issues getting around. Happy travels!
Have you tried Uber in Portugal? We'd love to hear about your experiences, send us a comment below.